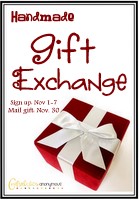 Are you signed up yet??? Sign ups just opened up over at
Craftaholics Anonymous
. If you haven't participated before, here's the scoop: You sign up and are given a name of a person you make a craft for. They make a craft for you. You get to meet a cool new crafter somewhere in the world, get to make a cute craft, and receive a cool craft. How fun is that!!
Just shoot Linda an email to sign up.
Here's the link.
Click on the link that says, Sign Up Form.
Oh, and you don't need to have a blog or an etsy shop or anything. You just have to be able to make 1 craft for someone. That's it. It's so fun. I hope you'll join in!! Happy November!