First off, I LOVE
Pick Your Plum
! Have you heard of it?? It's a wonderful discount site/email that offers one item each day. It's kinda like Groupon, but it's all craft (ish) stuff. It's either supplies for making crafts or some times a completed item. I love the craft supplies. I've bought several things on Pick Your Plum and honestly look forward to their email each day to see what great find they are going to offer.
My ONLY problem with
Pick Your Plum
is that I'm in CA, and many times the items are sold out by the time I get online around 9 or 10am PST. Bummer. It's not their fault. It's a wonderful problem to have. But I would have bought a lot more Pick Your Plum stuff if they hadn't already been sold out. I'm almost tempted to check it when I first open my eyes at 6am'ish. Hmmmm.....
I was so excited to get to participate with the
Pick Your Plum Series
happening over on Cherished Bliss! Love this blog. I got a surprise "Pick Your Plum Item" in the mail and was asked to "do something" with it. So fun. There's also a link party going on for the next few weeks where everyone can feature their Pick Your Plum items! And there will be winners that will get free stuff from Pick Your Plum!!! I would soooo love to win that!! So follow the
links here and link up!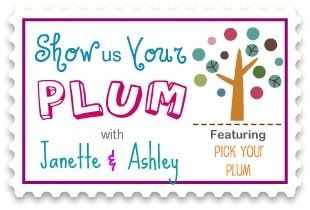 SO, here's what I got.....
a very cute, hand crocheted, headband/ear warmers.

To be honest, I was kinda sad it was a completed item. And I thought, what can I show with this! But, have no fear, I did decide to do something with it. First, here area few things you can do with it, as is....
wear it as a headband/ear warmers. Very cute. However, I live in Southern California and haven't been rock'in the ear warmers since I went to college in Utah. So you could also try...

A belt for a very skinny person. I do love this look as belt. Very fun. Or you can use this adorable crocheted piece to

embellish a bag! Yep, I cut it up and made it into this adorable small tote bag. My daughter has been begging for a new scripture bag for church. I thought this would really make it adorable!

I used the
reversible tote bag tutorial from here
, but before I started I simply sewed the ear warmer/headband onto the front piece of the fabric. Proceed with all other directions. I LOVE how it turned out, and my daughter is so happy. I think the headband makes it look so special, and so unique.
So thank you
Cherished Bliss
, and Pick Your Plum! I love your site! And I'll keep checking every day!